International conference "KazakhGrainExport 2019" started in Istanbul, Turkey
19.09.2019 в 17:12
3815 просмотров
On September 19, the two-day international conference "KazakhGrainExport 2019" started working in the large-scale trading, economic, port and cultural center of Turkey — the majestic city of Istanbul.
APK-Inform Agency and the association of legal entities the Kazakh Grain Union are the organizers of the event, while the largest international inspection Group of companies Baltic Control Kazakhstan — the General Sponsor. The Group of Companies Atameken-Agro is the Exclusive Sponsor of the event. Also, the companies Grain Partners, Fergus Kazakhstan and SGS became the sponsors.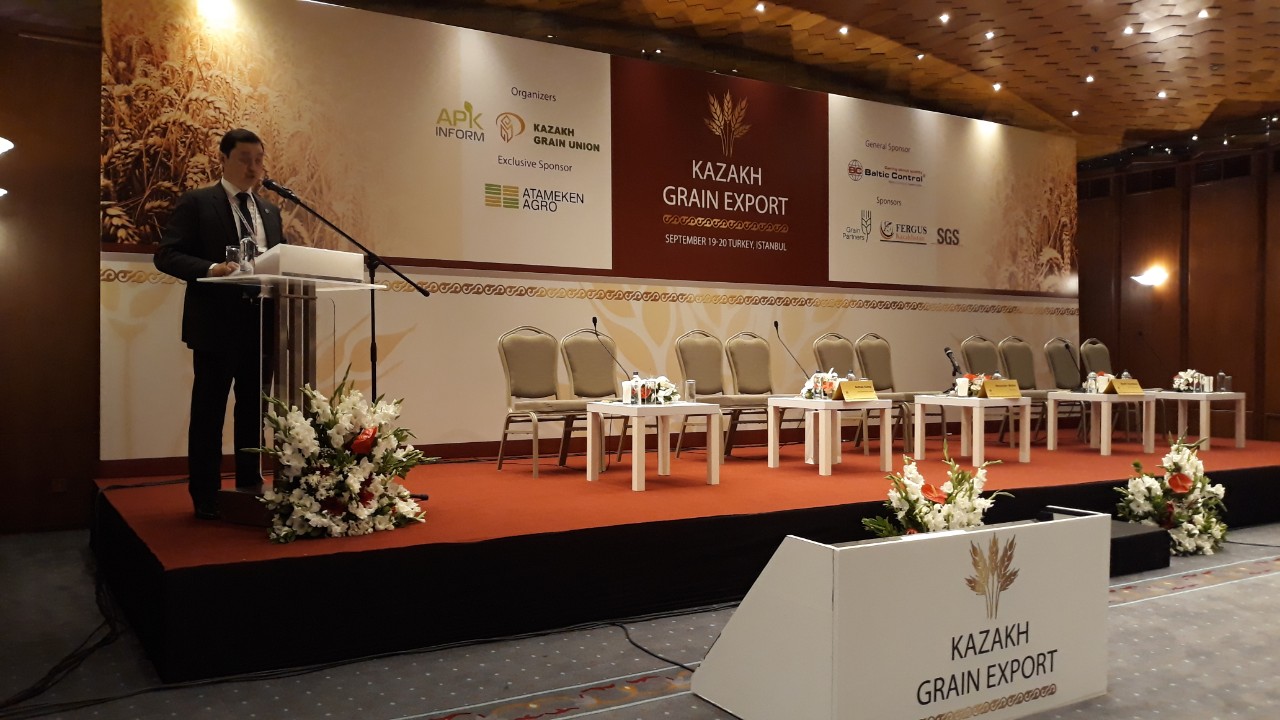 More than 180 representatives of agricultural businesses from 20 countries, including the CIS, EU, Asian countries, the Baltic States and the MENA region, are participants of "KazakhGrainExport 2019".
For two topic-specific days (September 19 and 20) — GRAIN EXPORT and OILSEEDS & PULSES, the leading analysts and experts of the grain, oilseed and pulses markets will provide their reports on the recent trends and development prospects of the reporting industries.
Since Kazakhstan is one of members of the TOP-15 rating of the global wheat producers and the TOP-10 of the global wheat exporters, and one of the leading players on the grain market, the first day of the conference focuses on the reporting market. In particular, the GRAIN EXPORT conference day includes such major session as "Global market of durum wheat: prospects, troubles and main trends of the season-2019/20", with the following speakers: the Senior Economist at the International Grains Council (IGC), Nathan Kemp, the General Director at VKZ-Agro LLP, Alexander Malov, and the Deputy General Director at Baltic Control Kazakhstan LLP, Daulet Zhampeiis.
Within frames of the second and third sessions, focusing on the markets of soft wheat and barley, the Trader at Grain Partners LLP, Ivan Malygin, the Business Development Manager at SGS Kazakhstan Ltd JSC, Jandos Esmagul, the Senior Analyst at Areté Research and Consulting, Filippo Bertuzzi, the Business Designer for the industrial sector, Expert on durum wheat, International consultant on trading and contracts, Alex Bignoli, the Chairman of the Board at MUTLU MAKARNACILIK SAN VE TIC A.S, Muhittin Aykut Göymen, the Deputy Director at Zlak-Service LLC, Alexey Rybnitsky, and the grain market expert, Senior Manager Sales CIS at PETKUS Holding GmdH, Natalya Skuratovich.
At the end of the conference day, the agenda includes the final discussion "Demand on the global market of wheat and barley in 2019/20 MY, competition on the main sales markets. Does Kazakhstan have chance to expand the export geography?"