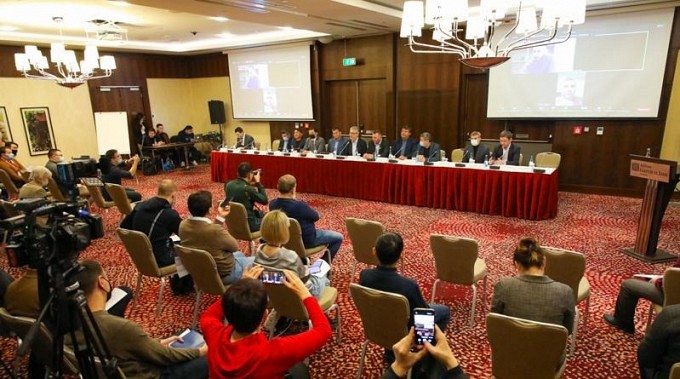 The Alliance of Associations of Agroindustrial Complex of the Republic of Kazakhstan demands to cancel the scrappage fee for agricultural machinery and reimburse 30 billion tenge
10.02.2022 в 11:52
663 просмотра
Astana. January 27th. KazTAG - The representatives of the alliance of associations in the agro-industrial complex, industry unions and farmers demanded to cancel the scrappage fee for agricultural machinery in Kazakhstan and refund T30 billion paid for 2021.
The requirements boil down to the complete abolition of the recycling fee on agricultural machinery, the reimbursement of T30 billion paid for 2021 and the provision of support for the "production of small tools and spare parts," the alliance said in a statement from a press conference on Thursday.
According to the information, the scrap fee for agricultural machinery leads to higher prices for products, and the payment of about 30 billion in scrap fee in 2021 contradicts the requirement to contain food prices.
Compared to 2020, the increase in the cost of agricultural machinery, according to the alliance, will reach KZT13.8 million per unit in 2021. From 2014 to 2020, domestic machine builders raised prices significantly. Thus, the Agromashholding's Essil KZS-760 harvester went up in price 3 times, from KZT23m to KZT68m.
Utilsbor supports large businesses, but does not help SMEs. The actual localization of combines and tractors does not exceed 5%. When they are assembled for KZT100bn, only KZT5bn remains in Kazakhstan, the rest goes abroad, excluding profits. And these T5 billion, according to the alliance, cost farmers T30 billion in salvage fees, and the budget - T20 billion in unpaid taxes and duties.
At the same time, the Ministry of Investment and Development of the Republic of Kazakhstan does not notice the market of T300 billion per year, where about 90% of products are imported. This is a market for spare parts and attachments, where SMEs operate with a high share of localization. This mechanical engineering does not enjoy benefits and preferences from the state, the information says.